Wednesday 25-Apr-2018, 02:50 PM

(This post was last modified: Wednesday 25-Apr-2018, 02:58 PM by Rebelrach.)
Date:
Sat and Sun 21-22 April 2018
Venue:

Caboolture Aerodrome, Caboolture, Qld



Time:

0900-1430 each day



Mission:

Our first invitation to attend The Australian Vintage Appreciation Society's Great Fly In Air show weekend to do what we do best. 
The Air Show is the biggest of its kind in Qld so big crowds were expected. We were raising money for Angel Flight – a volunteer organisation that flies families in need from remote parts of Australia to medical help.
Trooper Attendance:
SATURDAY
Redback Garrison:
Wrexham – TK
Raptor – TK
Tobalation - TB
Scoot040 – Tie Pilot
Booster – Tie Pilot
Diatium – Tie Reserve / Tie Pilot
Mykill – Reserve Tie Pilot
Blue – Imperial Crewman
Mortogg - Clone
RL:
Luke– Jedi
SUPPORT CREW:
Sockitsuzie – wrangler RL
Lucy – wrangler RL
Rebbyrebreb - Wrangle
Rebelrach – Wrangle/POC
SUNDAY


Redback Garrison:
Stormraven – Tie Pilot 181st
Donut - TK
RL:
Lucy – Rebel Fleet Trooper
Rebelrach – Xwing pilot



Details:

  The TAVAS Great Fly In event celebrates both vintage and modern fighter aircraft with a Reb Baron triplane replica and a FA-18 Super Hornet display, and lots of aircraft in between.
On Saturday, with 10 troopers in attendance we were able to set up our display tables and have troopers ready for the 9am opening.  We staggered the costuming so we had folks kitted up throughout the day.
A big effort by the twin newbie TKs Wrexham and Raptor, both trooping for the first time. They did a fantastic job under the watchful eye of Diatium.  Blue celebrated his Birthday by trooping Saturday so was rewarded with a cupcake and rousing song. Mortogg was his usual enthusiastic self and trooped with heaps of energy, and the Tie Pilots looked great in a trio as they mingled with the crowds. The wranglers did an excellent job manning the table, the donation buckets and keeping troopers safe. We were very lucky with the fine weather, and a strong breeze kept eve
rybody comfortable. After the C-17 Globemaster did its flyby at 2pm, crowds dispersed and we wrapped up and headed out.
Day 2 was another perfect sunny trooping day, four troopers this time. Crowds were a bit smaller at gate opening but by mid morning we were swamped with kids and fans.  Lots of photos, high fives and interest in the club, donations in the buckets.  Crowds had thinned out after lunch and the fly over finale was at 2pm, so troopers kitted out and we packed up the displays and tables which was by then being buffeted by the wind.
In conclusion a really successful and fun weekend of trooping, folks put in a great effort and well done to the newbies, especially Lucy who attended both days. Thanks to all that attended, we were well rewarded with a good total for Angel Flight, great public feedback and some excellent flying displays for the aviation fans amongst us. 
Funds Raised:

$236.55 for Angel Flight
Accidents/Incidents:

Mykill split his flightsuit pants and as he emphasised 'not at the seam'!
Mission Satus:

SUCCESS!!!
Photos
Day 1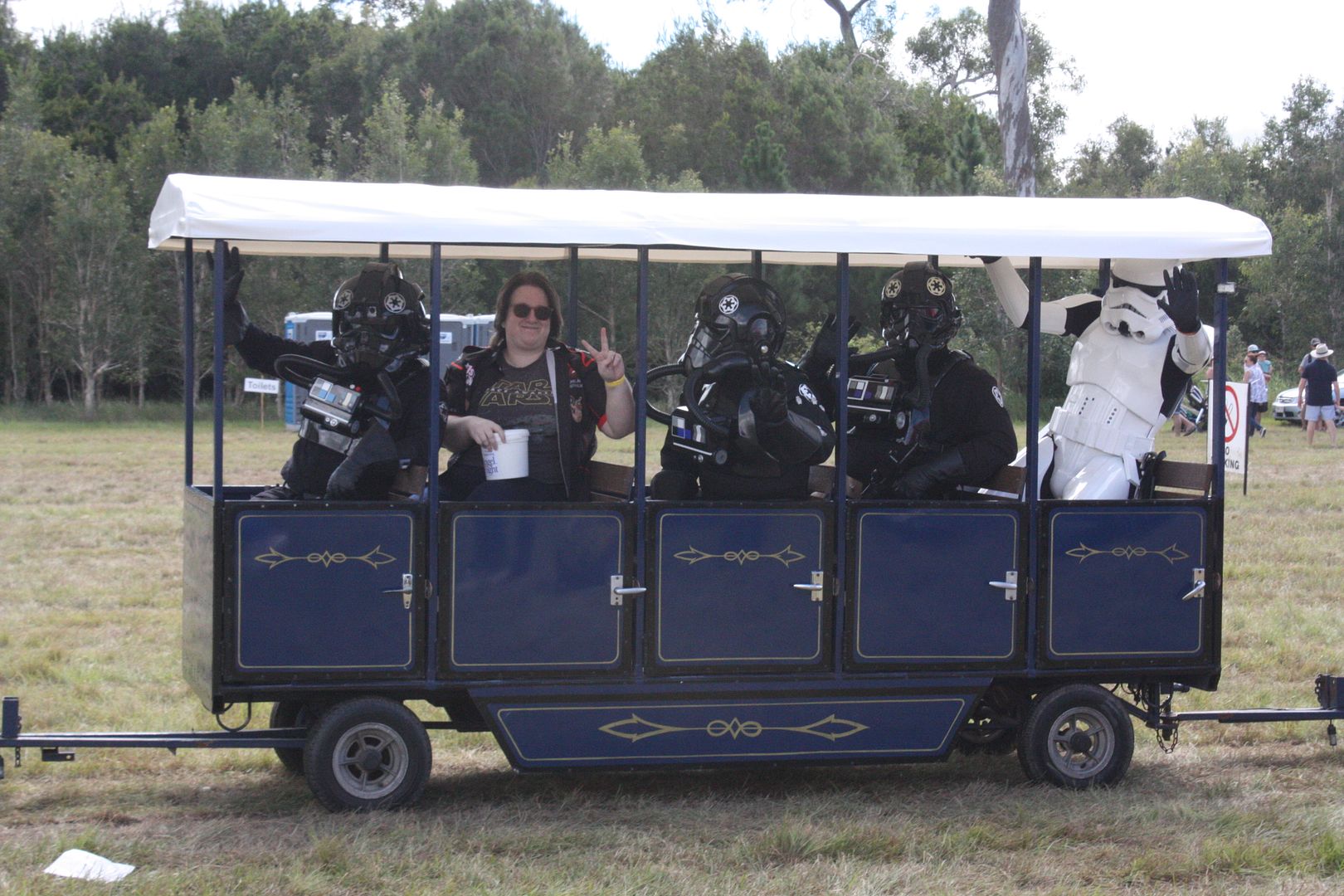 Day 2