Date:
Sunday December 2nd
Venue:
Brisbane Convention & Exhibition Centre
Time:
0930hrs to 1500hrs
Mission:
To assist the 4KQ Variety Special Children's Christmas Party organisers, by providing extra awesomeness to over 3000 children including the terminally ill, the intellectually impaired, physically impaired and the underprivileged.
Trooper Attendance:
ID Anakinra
TB ashbash
ID BIDS
TK Buzzard
TK Cutter
TK DarkVoyd
TR Deimos
TB Deltorn
TR Doc
BH Draco
TC Glitch
ID J'Girl
SL Kev Vader
ID Lei
TD madine
TK Moxxxie
SL muppet
TD Rubber
TC scope
TB SideshowMel
ID stormraven
The Sniper
TB TheWolf
TC Zerebin
Rebel Legion Attendance:
(dual 501st/RL members)
Anakinra
DarkVoyd
Hopfot
Tirilia
The Sniper.
other....
Phoenix D2L SPIDERMAN
Azza D2L BATMAN
Sithprincess Sugar Plum Fairy
Snarky Disney Princess
Support Crew:
Cobra, Jimcricket, Bigmac, (plus just about every other trooper, when they weren't in costume)
Detail:
An early start to the day for most as there were troopers arriving for duty from around 0730 hours. Once signed in, we headed up to our change room. No air conditioning in one of the rooms affected the overall TCL (trooper's comfort level) fortunately we were able to get changed without too many difficulties. It was hot, but luckily we had heaps of water which was kindly donated by the event organiser.
Shortly before 1000 hours some of the troopers headed out on to the concourse to greet some of the children waiting to get in.
At around 1020 hours, we met up inside hall 4 with the Queensland Police Pipe Band
It had been arranged that the Queensland Police Pipe band would muster outside of hall 4, and lead the 501st Legion members into hall 2, while playing the Star Wars Theme.
Video evidence here:
http://www.youtube.com/watch?v=oXJvMx0cago
Once inside, the QP pipe band couldn't resist getting another photo...they just loved the cardback display.
After the main doors were opened, we were literally swamped with children and adults, which made things,.... rather cosy
Muppet , Ashbash, deltorn and TheWolf, were very popular in their festive issue uniforms.
Don't they just look simply joyous
On the left, Rubber was testing a new flight system supplied by the fairies, while Moxxxie and Doc did their best to show that the Empire has a soft side...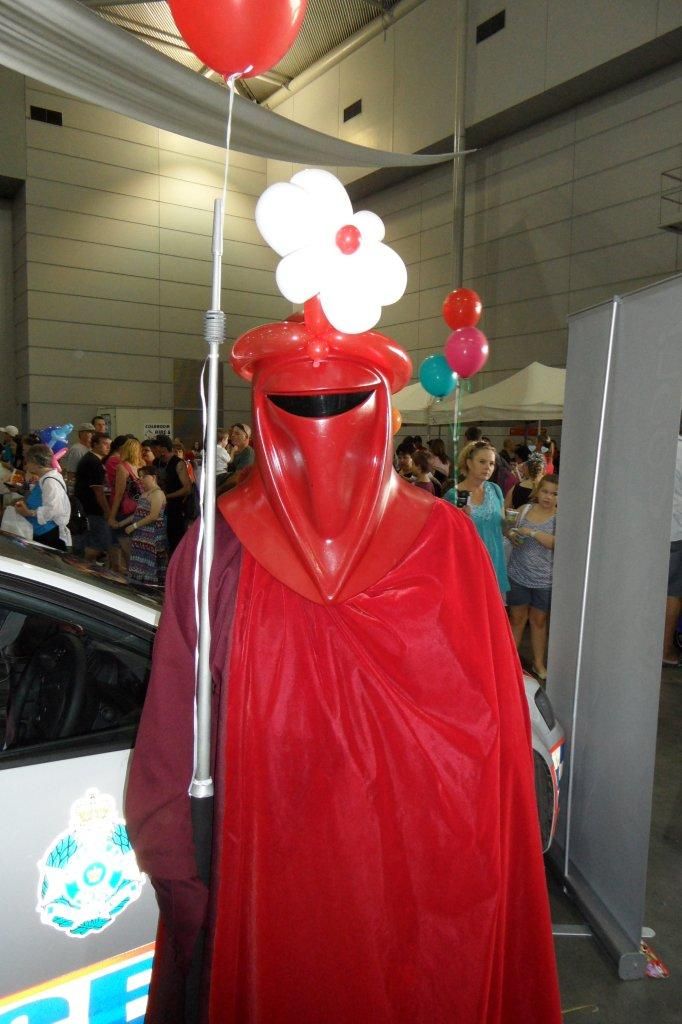 Overall it was a great day and we did we came there to do, make lots of little faces (and some big faces) smile. The multitudes were thrilled to have us there. I have seen more hugs given to troopers today, than in any previous Variety event. It shows the impact we can have on people.
Everyone did a great job, in whatever capacity they were in.
Injuries:
Armour bites, Glitch's armour on his sunburn, ouch!
Malfunctions:
None reported
Public Incidents:
Moxxxie reported that one of the children was a little...erm...over friendly to her.
Oh and Spiderman was arrested, some would say he had it coming.
Mission Status:
Successfully completed...well done to all who were able to attend. Thanks especially to Jason "scope" who brought the card back display in.
Photos:
http://s45.photobucket.com/albums/f69/50...s%20Party/
I know there were some of you taking photos, so if you haven't done so yet, please put them in the photobucket account.
Rick