Friday 19-Dec-2014, 12:04 AM

(This post was last modified: Friday 19-Dec-2014, 09:50 AM by Rebelrach.)
Date:
Wednesday 17th December 2014
Venue:
Brand New Starlight Room and wards, Lady Cilento Childrens Hospital, South Brisbane.
Time:
1pm – 4pm
Mission:
To be awesome and bring some Star Wars cheer to the kids and their families at the Starlight Children's Christmas Party and the wards of the Lady Cilento Children's Hospital.
Trooper Attendance 501st:
Christmas Tie Pilot – Stormraven
Christmas Snowtrooper - Rebelrach
Trooper Attendance Rebel Legion:
Christmas Jedi - Tobalation
Support Crew / Guest Trooper Attendance:
Iron Mate (Duane)
Starlight Captain Scramble
Details:
After a few logistical issues, troopers met the ever happy Starlight Captain Scramble for a quick walk through the enormous new building to the change room at the new Lady Cilento Children's Hospital – which looks great and smells like a giant new car. Troopers kitted up with a Christmas theme and were joined by the awesome Iron Mate/Tony Stark for a grand entrance at the Kids Christmas Party.
As expected the party was complete bedlam in the best way, with the new Starlight room packed full of kids, parents, volunteers, games, activities, music and of course Santa. Troopers met the kids, had photos and did what we do best. The Christmas themed costumes were a big hit, none of the kids were afraid, some wanting hugs, a dance, selfies and in depth chats! After a while we headed up to begin our visit of the 5 floors of wards with kiddies unable to attend the party.
You wouldn't want to get lost in that hospital its absolutely huge, with 11 floors, all looking the same! Troopers visited many rooms and bedridden kids, then went back down to the party, had a quick refreshment break, went back to the party, then back to visit more wards. By 4pm we had to call it a day, not before meeting some Brisbane Broncos and Lions players, and having a lip sync song with some of the volunteers "Santa Claus is coming to Town". Rebelrach on keyboard finished the song off with a flourish, only to be presented with the keyboard's power cord by a little boy in a spiderman costume, and was told 'Um…its not even plugged in?'. Busted!!!!
We finally got the obligatory group photo with Santa, who for some reason, was quite happy for Rebelrach to perch on his knee once he found out she was in fact a girl. The kids were amazing, the parents and hospital staff so accommodating and grateful for us being there. After 3 hours we hadn't even seen half the wards, but dropped into the new Emergency room and had lots of pics with staff through the hospital on our way to de-kit.
These parties are really wonderful events, it's fantastic to see so much effort by all involved to create such a fun party for the kids and their families in a place that can be so sad, especially at this time of year. We all left pretty tired, but so honoured to be part of such a positive event.
Charity Funds Raised:
Nil. Not the goal.
Injuries / Malfunctions:
Nil.
Public Incidents:
None , bar a slightly confused Santa.
Mission Status:
A great success as attending these wonderful events always are.
Photos:
How to Christmas-ise your Costume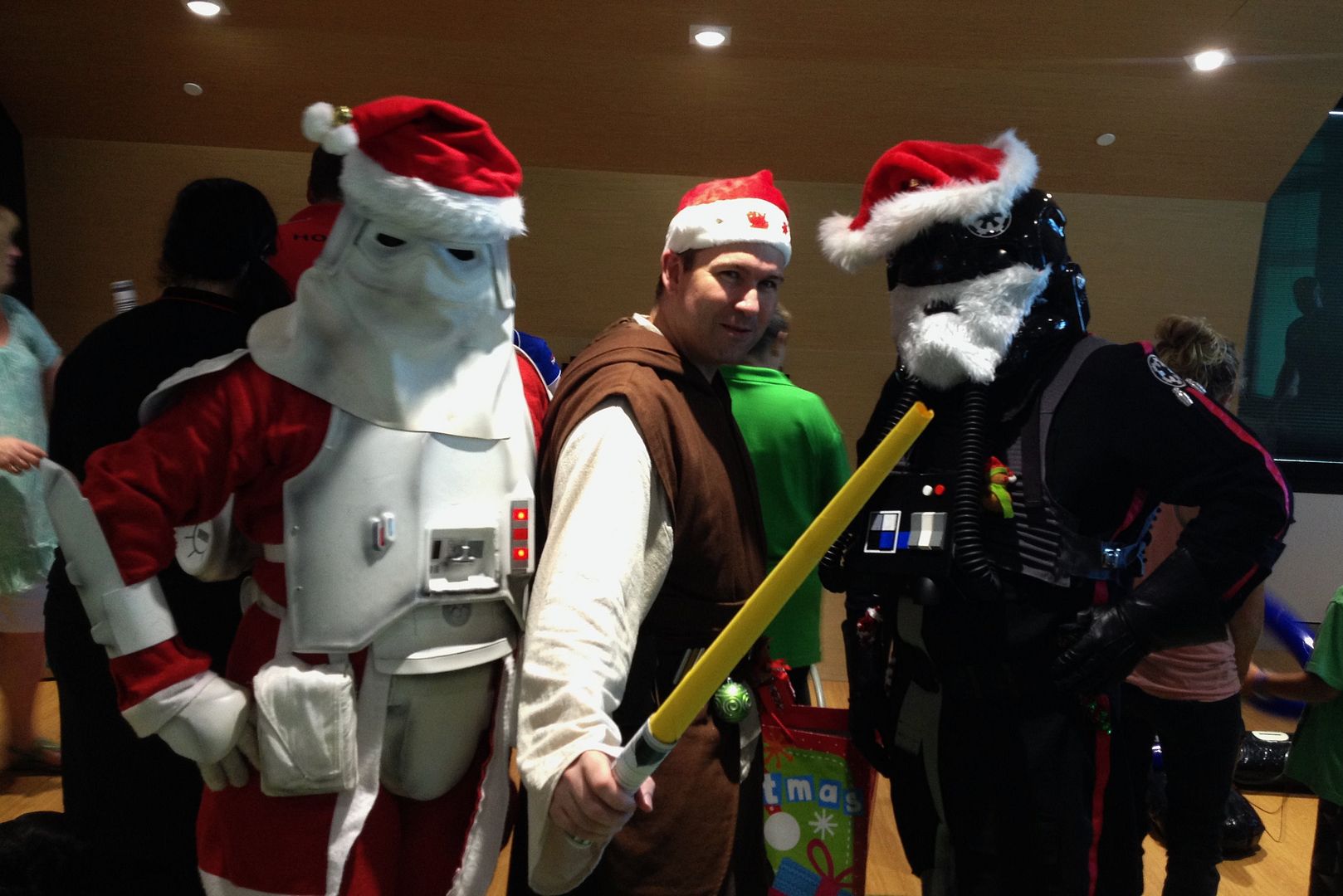 Awesome support from Iron Mate and Captain Scramble. These guys are great fun to troop with. Captain Scramble is a huge Star Wars fan and loves the cardboard lightsabers for the kids.
Groovin' at the party. The Santa troopers were a hit!
Music jam with some of the volunteers
We met Santa….all we want for Christmas is Episode 7!!!
A job well done by all the troopers that trooped at the all of the hospital events throughout the year.