Saturday 25-Aug-2012, 07:43 PM

(This post was last modified: Saturday 25-Aug-2012, 07:43 PM by Angelman.)
Date:
Saturday 25th August 2012
Venue:
St Mary's Hall (and then Stockland Rockhampton)
Time:
12:30pm - 1:00pm which turned in 2:15pm
Mission:
Entertain the crowd waiting to attend the charity concert for the South Rockhampton Special School.
Trooper Attendance:
Angelman, LadyTarkin, JOKer (Note: This was JOKer's first troop in armour).
Guest Trooper Attendance:
Jordyn
Support Crew:
Lisa
Detail:
TK-6729 received a coded transmission that the South Rockhampton Special School were in need of some addition funds. An outstanding Imperial citizen Ailsa took it upon herself to hold a charity concert at the St Mary's hall. TK-6729 (aka Angelman) took it upon himself to arrange a few troopers to make the citizens feel safe whilst waiting admission to the concert. Unfortunately due to corrupted data packets in the secret transmission, vital information was not received. What TK-6729 failed to realise was the concert was being attend by senior Imperial citizens and the music was something called 'country and western'.
After fellow trooper JOKer stopped laughing, JOKer informed Angelman that he had a good lead on an imperial recruit currently at Stockland. So making an executive decision (and wanting to get far far away from the country and western music as possible). Trooper Angelman dived into a private transport vehicle fully armoured and proceeded to our alternative troop location.
We were very well received by the citizenry of Stockland Rockhampton many digital images were taken, we rendezvoused with cadet BayBay (Shane) who informed us that the leads were a dead end.
We marched double time back to our vehicles and de-armoured.
Fortunately we have received further transmissions that some new recruits may be found tomorrow at the Rockhampton Home Show.
Good hunting tomorrow troopers.
Charity Funds Raised:
Nil
Injuries:
None
Malfunctions:
One Chicago screw (JOKer)
Public Incidents:
None.
Mission Status:
Success.
Photos:
Ready for light speed - away from this music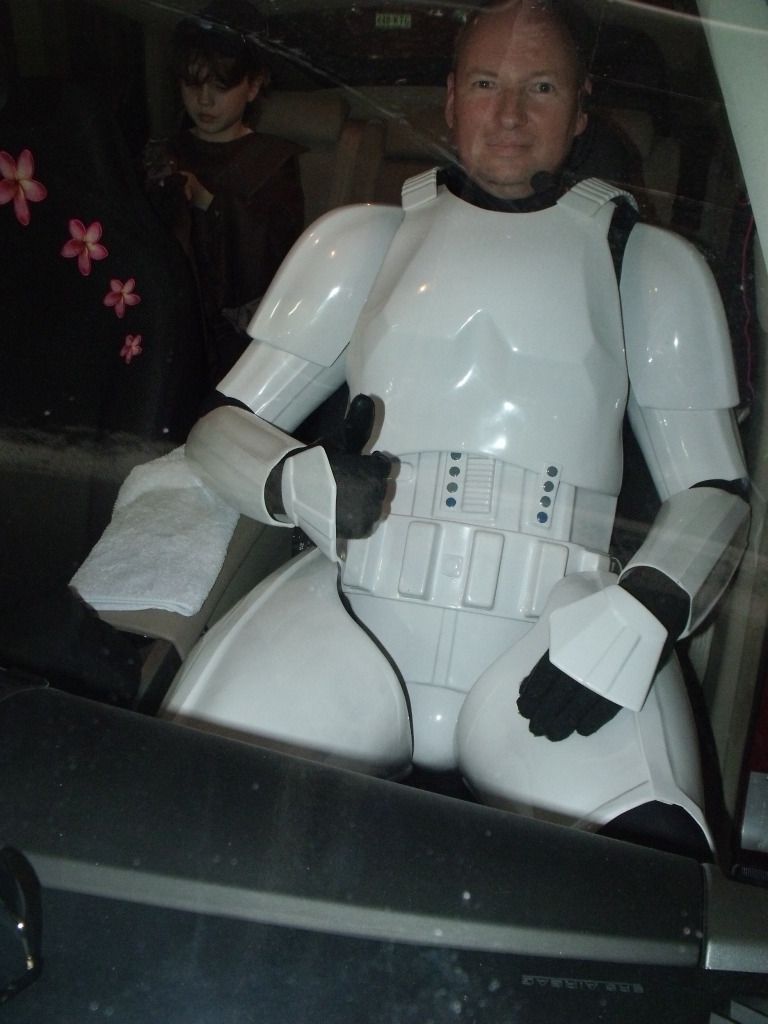 I think this is my trooper.
This lovely Imperial couple just had to get a photo with us, they must sadly remember the day 30 years ago when we heard about the rebellion (aka Episode IV)
JOKer's first troop in armour - hence the big Fresh Meat sign
.
Michael (Angelman TK6729)
:DW13: :DW14:
I'm THAT guy from the video, 501st Documentary (
Link
)