Thursday 30-May-2013, 12:37 PM

(This post was last modified: Thursday 30-May-2013, 01:06 PM by Rebelrach.)
Date:
Sunday 26 May 2013
Venue:
Starlight rooms, Mater Children's Hospital, South Brisbane
Time:
1300 - 1500
Mission:
To bring smiles and brighten the day of children and their families in the hospital.
Trooper Attendance:
Lord Vader - Muppet
Captain Rex - Beanie
Captain Fox - Benji
Sand Trooper - Blueski
Imperial Officer - Stormraven
Jawa - Rebelrach
R2D2 – with personal wrangler Major Payne
Support Crew:
The 2 Starlight staff – Captain Cosmic and Captain Rock-it, who led the way
Detail:
With 7 troopers, the Starlight Captains split us into 2 groups, logically the Rex Beanie, Fox Benji Clones and Imperial Officer Stormraven provided the entourage for Ken Muppet Vader, and the Tatooine dwellers veered off separately. R2 wandered off confidently followed by the pesky jawa Rebelrach with the irrepressible Trooper Blueski bringing up the rear (both Jawa and Sandy secretly plotting how to get their hands on R2 after the troop).
For many it was our first hospital troop, but the Starlight Captains led from the front and we all fell into the routine of visiting the children's rooms and play areas well. Such brave little faces greeted us from the beds, full of bandages and tubes and flowers and balloons. It was a privilege to visit these courageous little kids and coax a smile and a wave from them and their families.
R2 was an absolute super star. Everywhere he went he was either swamped, admired, feared or stared at, with fascination. One little chap kept touching him saying "R2 is sooooo funny!" One patients mum was beside herself with excitement and we thought she might try and kidnap R2 for herself. Down each hallway and into each room, with R2 strolling along as only an R2 unit can, beeping, lights flashing, head moving and on occasion playing the Star Wars theme song, the Imperial March or the Cantina band song (cue Jawa and Sand Trooper dancing) the smiles got bigger and brighter, cameras flashed, families posed and we left each room brighter and better than when we entered. A few scared faces and looks of confusion (from non Star Wars fans) but far and away a very positive troop, for all involved.
A report from Captain Rex had a similar theme: We descend to the levels where children have been cooped up in beds for days and weeks upset and unable to do anything, we needed to visit these little troopers. And as soon as we walk in the moods CHANGED dramatically, the smiles were as wide as the trenches on Umbara. Continuing our visits more and more children are so happy to see us and a few comments from Parents saying "my child hasn't smiled or moved since coming in, thank you so much" were all heard but I cannot take all the credit as it was a joint operation and both squads did gallantly.
Charity Funds Raised:
Nil but smiles and the reaction from the kids are priceless
Injuries:
Some sore toes after the cheeky R2 unit ran into the Jawa a few times fighting for the limelight (photos!) in some tight fitting spaces
Malfunctions:
At the onset Vader had a malfunctioning lightsaber and voicebox. Asthma soundtrack restored with quick thinking by Payney using his ipod and Beanie's amp.
Public Incidents:
None. However 2 children's lollipops, a toy car and a pencil were confiscated by Blueski sand trooper and returned to their owners, much to the annoyance of Jawa Rebelrach.
Mission Status:
Success, countless smiles created, moods elevated, awareness of the 501st improved. Staff too were incredibly appreciative and the Starlight staff are wrapt this will be a monthly troop. Some good contacts made too with the Starlight Captains for future events.
Photos:
Troopers ready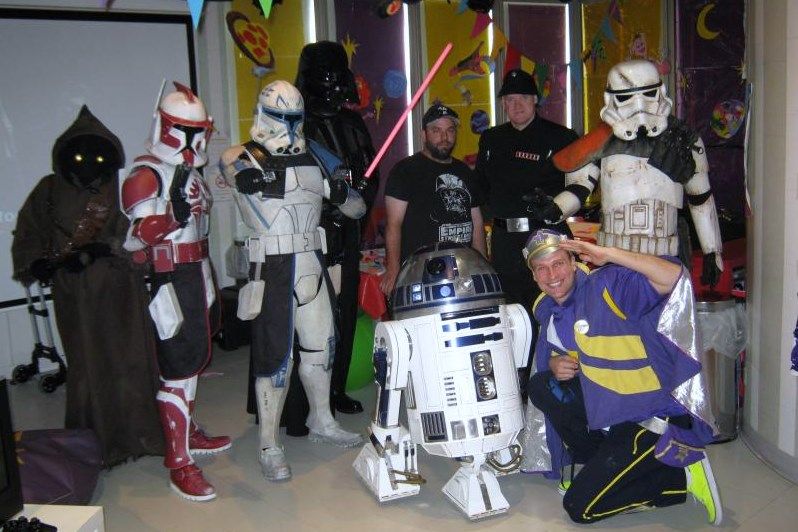 The Star of the show R2D2 with that pesky Jawa...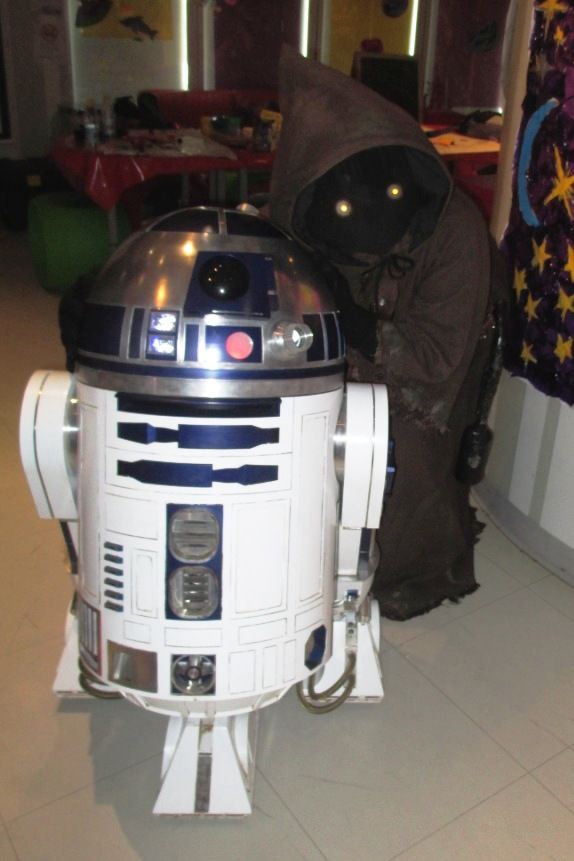 What do you do waiting for a troop Payney? Play Xbox of course!