Monday 16-Dec-2013, 10:50 PM

(This post was last modified: Monday 16-Dec-2013, 10:53 PM by Rebelrach.)
Date:
Thursday 12th December 2013
Venue:
The Wonder Factory, Royal Brisbane Hospital
Time:
3.30 – 5.30pm
Mission:
To attend the Wonder Factory Children's Christmas party and help bring some Star Wars cheer to the kids in the wards that couldn't attend the party.
Trooper Attendance:
RBG:
Duras – TK
Donut – TK
Bigmac – TK
Rubber – Sandtrooper
RL:
Rebelrach – Jedi applicable
Support Crew:

Stormraven – Wrangle
Duck – Wrangle
Details:
For nearly all the troopers this was their 2nd hospital troop of the day, but having refuelled and rested between events the troopers were ready to go again.
We kitted up and were told to go outside and 'wait for Santa'. Having no idea what that meant we wandered outside to be greeted by kids and parents, the police and some camera crews, most looking up at the roof! We entertained the waiting group posing for photos and chatting with the crowd, until look! Up in the sky! It's a bird, it's a plane…its Santa!!!!
Santa and his elves abseiled down the outside of the hospital, pausing at each window to wave to the amazed kids inside, it was wonderful!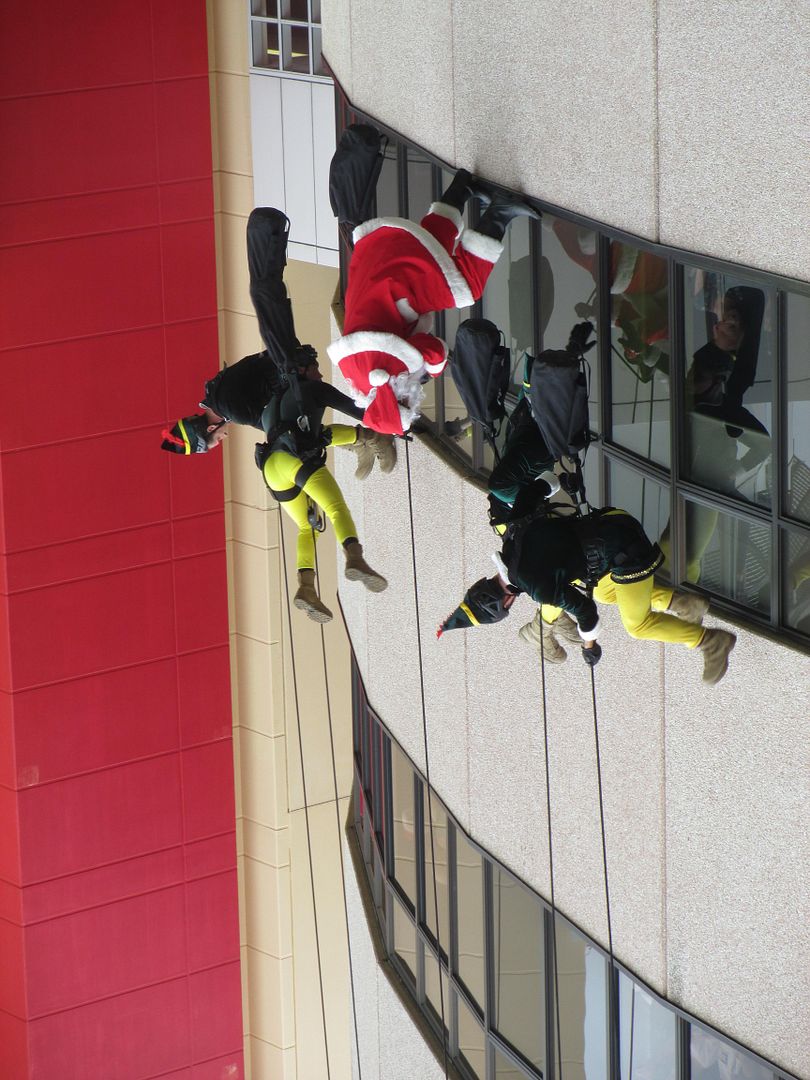 Back inside the troopers hammed it up for the kids…
…and took full advantage of Santa taking his time to get inside….
Dear Santa, all I want for Christmas is….(well that's secret Jedi business)….
The troopers energetically trooped around the wards to visit the children who were too unwell to attend the Christmas party downstairs. There were such brave little souls to visit and we definitely brightened up the mood presenting some "Clone Wars" character books to the kids that had been donated to the Garrison and dutifully wrapped by Kev Vader. There were some very grateful smiles and thanks from the kids and parents. It was incredibly rewarding and humbling.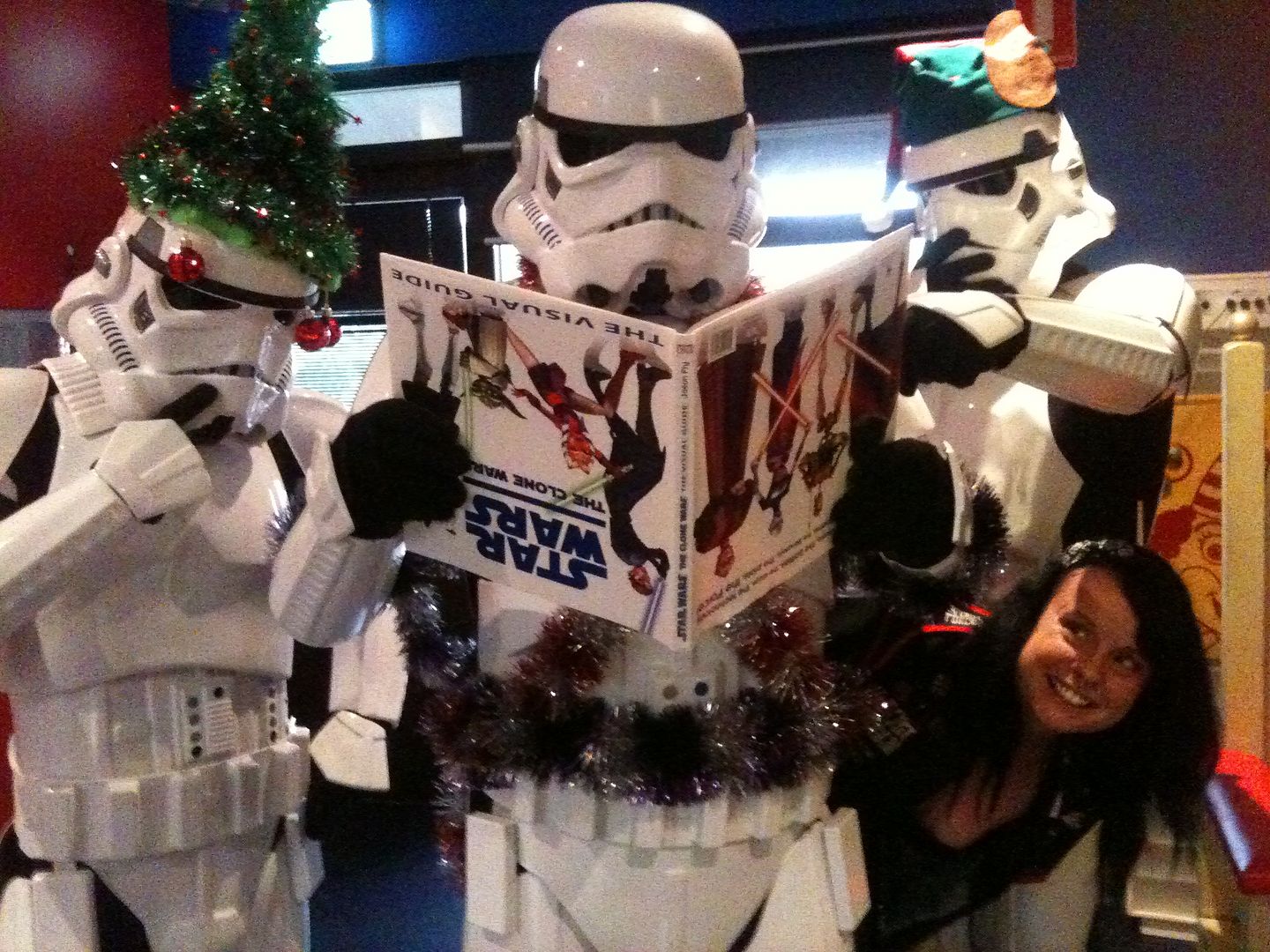 Back to the party the troopers posed with the kids and oldies for photos and presented even more books. The conditions were challenging, lots of people in a crowded room, in very hot conditions, so after 2 hours the troopers said their final goodbyes and packed up. This troop was fun and emotional, challenging and a laugh….everything you'd expect from a children's hospital Christmas party. A big shout out to Duck and Stormraven too who wrangled brilliantly, seeking out the kids to present them with presents and helping immeasurably. Well done everyone!
Charity Funds Raised:
NIL. You can't put a price on happy!
Injuries / Malfunctions:
A bit of fogging up and overheating by the troopers. The party room was incredibly hot.
Public Incidents:
Nil
Mission Status:
A huge success, very rewarding for the troopers who attended and put in a mighty effort, it was fantastic to see all the volunteers and companies that donated for the party, and all the happy faces..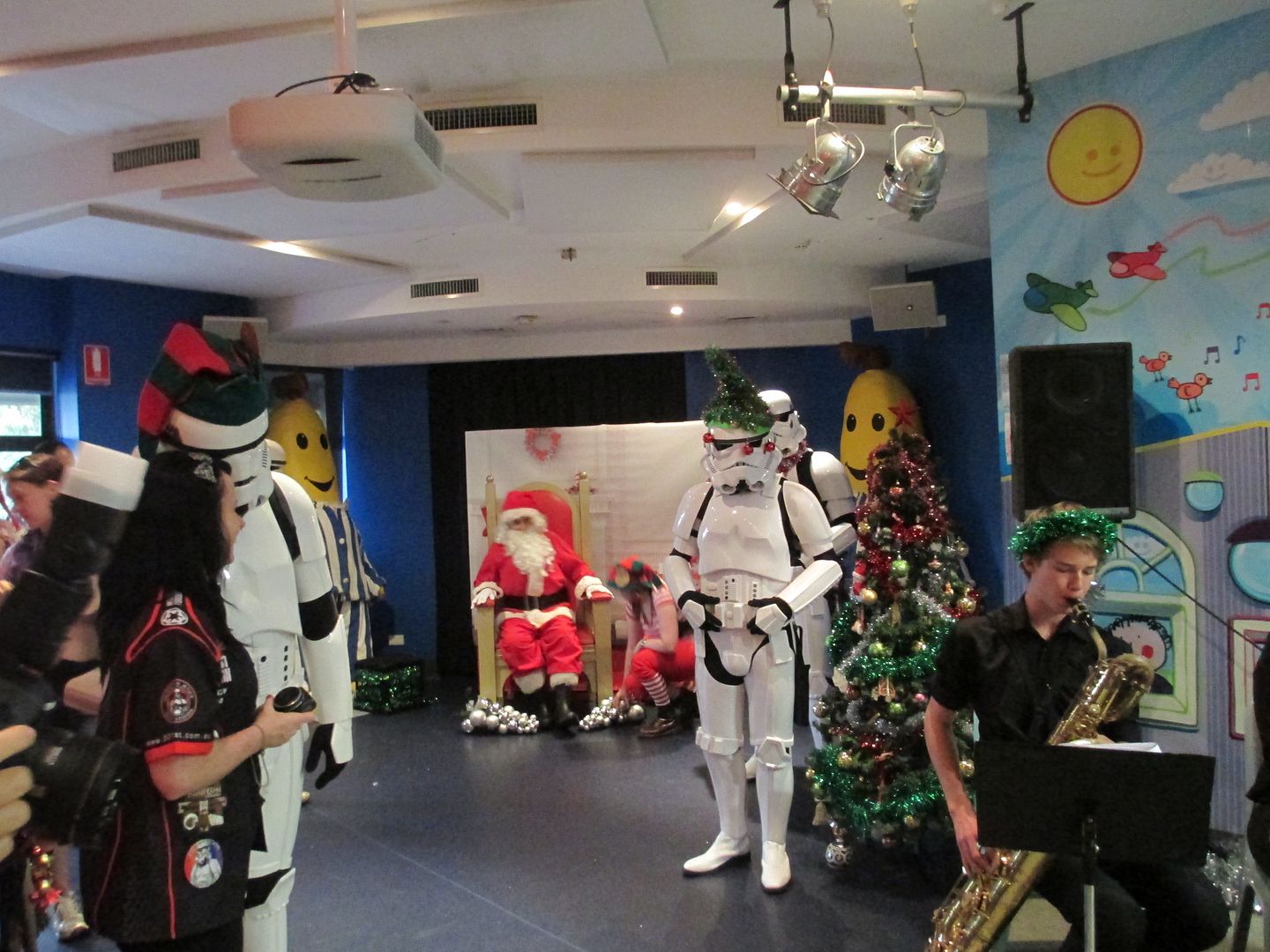 ---
I'm also not ashamed to say I have adopted Oevils' Troop Reporting style...less words and more pics.
Also on another note I had the privilege of meeting a youngster who'd lost his arm to Leukaemia. He was thrilled to meet the troopers and after putting two and two together his mum confirmed his name was Scott and we were attending a troop for him in Hervey Bay in a few weeks. His mum was so excited and so grateful to us, it was great to meet them.